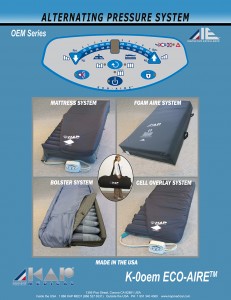 Documents:


Alternating Pressure System
The most affortable state of the art micro controller driven LED display, ALTERNATING low interface pressure relief System. Smart Support Surface™ (SSS) provides real time and accurate patient interface pressures below capillary occlusion with enhanced Alternating Pressure therapy and patient comfort.
Control Unit (K-0oem) OEM
Plug and play auto-sensing multi-use control unit, operates in any country. Single airflow pump, 8~12 LPM (liters per minute). State of the art micro-controller with Real Time Pressure Monitoring (RTPM) sensor technology. Software flexibility allows customer changes (custom pressures, times, and functions).
User-friendly control panel with keys and 7 segment LED display for simple user interface. Displays current mode, A/P times, and patient comfort pressure level from Soft 0 to Firm 9 (7 ± 5 to 32 ± 5 mmHg).
Micro-controller shuts off the pump once the desired patient comfort pressure is obtained. Pump is off most of the time. Max Flow mode with 45 minute timer for rapid inflation of the mattress, inflates in 20 ~30 minutes depending on the size of the mattress.
Control unit provides effective static or alternating pressure therapy.
Lock out key completely locks the control panel to eliminate tampering of the patient settings, including power switch.
Audiovisual alarms in the event of power outage or low pressures (hose disconnect). Alarm silence key to mute alarm. Internal memory always retains current settings during power outage, will resume desired operation upon power restoration. Holds air in the mattress for days in the event of power outage.
Quick disconnect airflow connector for rapid attach and CPR deflate functions.
Control unit is reliable, quiet, compact and lightweight. For quick inflate please use our K-39 RID™ Rapid Inflator / Deflator unit.
Smart Support Surface™ (K-0oemM / K-0oemFAM) OEM
Therapeutic support surface consists of superior quality, urethane coated nylon air cushions (16 cell overlay or 16/20 cell mattress) to provide effective A/P therapy with low interface pressures. Pad overlays or cell overlays are 3" or 5" or 7" high, and mattress replacements are 8" or 10" high.

OPTIONAL SIDE BOLSTERS

constant air pressure side bolsters / foam bolsters help contain the patient on the mattress. Air bolsters can be deflated for easy patient access into and out of the mattress and also for easy patient procedures.
Low friction and low shear force producing, and highly vapor permeable urethane coated breathable nylon or 4-way stretch top sheet. 2" convoluted safety foam base or 2" optional air pad base (8" & 10" mattress) to provide additional support to the patient in the event of power failure.
The air cells are connected to the manifold using quick connectors (hose manifold with straight connectors on Foam Aire products) and fastened to the base. The top sheet is zippered to the base. Bi-Lumen tubing assembly with single, rugged quick disconnect connector for rapid attach and CPR deflate function. Holds air for days during power failure.

FOAM AIRE

K-0oemFAM mattress has fire barrier Kevlar lining with multi-ply visco foam top layer and hard perimeter bolster which houses the foam filled air cells.
Complete support surface is made of superior quality materials and is modular in construction. All of the components such as manifold, tubing assembly, air cushions, top sheet, and foam base are interchangeable and can be easily cleaned or detached for laundry.
Lightweight support surface can be rolled up easily and has two handles or two shoulder straps, which can be used to carry by hand or over the shoulder.
SAC™ Support Air Cushion (K-140)
SAC™ (Optional) foot support air cushion can be used to support patient's feet and to provide zero interface pressures in the heel area.
K-0oem ECO-AIRE™ Specifications