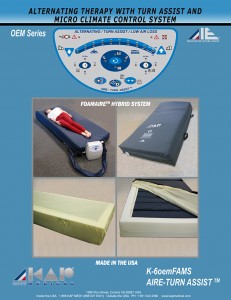 Documents:


Alternating Therapy with Turn Assist and Micro Climate Control System
Easy and effective means of providing Alternating therapy with Turn Assist and On-Demand Low Air Loss relief to manage patient's skin micro climate environment. Simple to operate and affordable, Smart Support Surface (SSS) provides real time and accurate patient interface pressures and patient comfort.
Control Unit (K-6oem) OEM
Single high airflow pumps, 42~52 LPM (liters per minute).
Software flexibility allows customer changes (custom pressures, times, and functions). Provides 30º ± 8º Left or Right Turn Assist.
Intuitive user-friendly control panel with LED display for simple
user interface and quick setup.
State of the art microcontroller design, Low Pressure alarm,
Power Fail alarm, System Lock Out, Alarm Silence.

ON-DEMAND LAL:

Micro climate control Low Air Loss relief can be turned on or off.
Control Unit holds air for days in the event of power failure or during patient transportation.
Lock out key completely locks the control panel to eliminate tampering of the patient settings, including power switch.

Bed Exit Alarm:

When activated, an audio visual alarm will sound when the patient exits the bed.
Smart Support Surface™ (K-6oemFAM ) OEM, Patented SKIN GUARD™ Top Sheet.
Therapeutic support surface with Skin Guard™ Top Sheet, FoamAire™ patient support foam filled air cells for maximum patient support and comfort, and non skid mattress base.
Safe constant air pressure side bolsters help contain the patient on the mattress during Turn Assist cycles.

Patented SKIN GUARD™ LOW AIR LOSS Top Sheet.

Multi-Chambered Low Air Loss distribution zippered top sheet.

Top layer is low friction and low shear force producing, highly vapor permeable and yet water resistant, breathable nylon or stretch material.
Middle layer is a unique spacer fabric layer, allows unobstructed, continuous air flow throughout the top sheet to prevent heat buildup and manage patient's skin micro climate environment.
Bottom layer is a zippered liquid proof layer which prevents any liquids from getting into the mattress base.
SAC™ Support Air Cushion (K-140)
SAC™ (Optional) foot support air cushion can be used to support patient's feet and to provide zero interface pressures in the heel area.
K-6oemFAMS AIRE-TURN ASSIST™ Specifications